P R O D U C T G U I D E
LASTING 40K Blasting Nozzles
Blasting Insert Nozzle Brochure
MAXIMUM NOZZLE LIFE
JET STREAM RELIABILITY
OPTIMUM PRODUCTIVITY
PERFORMANCE CONSISTENCY
HIGHEST COST PERFORMANCE
PRODUCT FEATURES & BENEFITS
QUALITY THAT BLASTS AWAY INDUSTRY NORMS
Lasting Diamond (HK) Technology manufactures each of our standard water jetting nozzles with the highest quality materials
and precision machining techniques in the industry. Each nozzle is equipped with heat treated, stainless steel mounts, aerospace grade retainers, and 100% quality inspection,to ensures:
Maximized nozzle life
Consistent jet stream profile and coherency
Superior blasting performance
Reduced downtime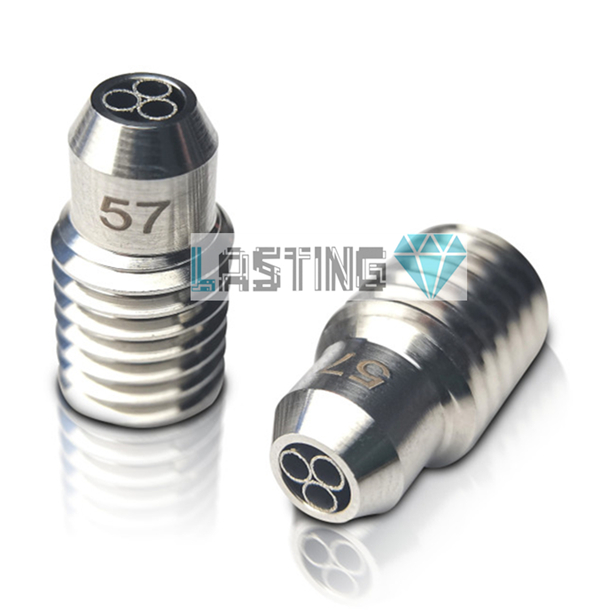 M A T E R I A L G R A D E
WE OFFER BOTH SAPPHIRE INSERT AND DIAMOND INSERT NOZZLES
Natural Diamond
PRODUCT FEATURES
Performance Grade: 15 to 20 Times longer life than Sapphire
100% tested at 40K psi
Zero ID edge degradation over use
Premium jet stream coherency & integrity
Optimized jet stream length and consistency
Maximized uptime and productivity
Sapphire
PRODUCT FEATURES
Utility Grade: Long life
High jet stream coherency
Max jet stream length
Premier sapphire material quality
Aerospace grade mounting & retainingmaterials
100% quality inspected
Although Natural Diamond Nozzles are most ideal for waterjet cutting and cleaning & balsting applications, sapphire remain a commonly used orifice material. While sapphire, also known as corundum, is still utilized in the industry today for non-critical applications, due to its inherent material characteristics it does not hold up well to impacts from on/off cycles, metal debris from high pressure lines, or abrasive particles that collide with the orifice edges. Any of these impacts can render the jewel useless in an instant. It takes only one impact on the inlet edge of a ruby or sapphire to chip it, causing jet stream quality failure.
But the natural diamond insert nozzles made by Lasting Diamond (HK) Technology have about 40% less cost than other international competitors, at an affordable price point, allowing you to go the distance with your production without costly downtime to change out unreliable nozzles.